ABOUT SLOT
Volatility
Medium To High
Online casino info
Last updated
Mar. 31, 2023
Specifications of Blood Suckers Casino Slot
Blood Suckers is a 2009 NetEnt-powered slot with a recognizable vampire theme. It's one of NetEnt's older creations, but still popular even today. It features 5 reels and 25 paylines.
When you play Blood Suckers slot, you can expect numerous great features and high wins. It has a bonus feature called 'Vampire Slaying'. If you unlock it, you can pick from several coffins and win different cash prizes. In addition to this feature, Blood Suckers also has a free spins feature. If you unlock it, you get 3x multipliers.
Even though this game's graphics are not as impressive as those of modern slots, it still packs quite a punch. Every symbol is unique and carefully planned, offering an amazing experience to players.
One reason why Blood Suckers remains so popular even today is the opportunity of high wins. Bloodsuckers RTP remains higher than most modern games, even today. Right now, Blood Suckers RTP stands at whopping 98%, which gives you a true opportunity to win real money.
If you are a fan of slots, you probably know that this is one of the highest payout rates you can find. It pretty much guarantees wins to most players, although most are around 30x multipliers. The 10 free spins feature with 3x multiplier is harder to catch, but when you see the mad vampire bride scatter on your screen, you can expect a big win to follow.
What Kind of Theme Does Blood Suckers Have?
The Bloodsuckers slot game is an old, yet most unique slot that features vampires.  There are no romantic elements– it was created at a time when vampires were simply evil, before Twilight or Buffy. Any of its symbols are dangerous, which makes for a unique design that people still love after many years.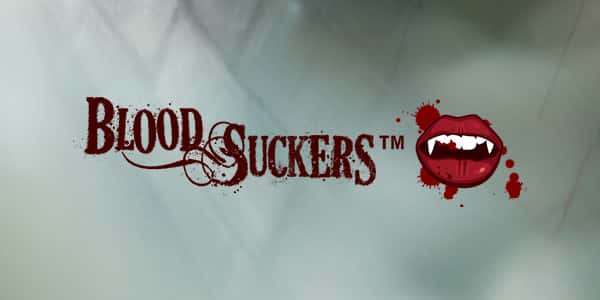 Blood Suckers I vs. Blood Suckers II
Those who loved NetEnt's original are even more impressed by its worthy successor, Blood Suckers II. It offers frequent bonus features, constant wins, and similar theme. On top of that, it has better graphics embedded into a 24 payline slot. Most bonus features are the same, with one noticeable difference in design – vampires here are more good-looking than scary. Also, a top amount a player can win in a single spin is 1298 times the bet compared to 900 in its original version.
Fairness of Blood Suckers
With such a high RTP, this is definitely one of NetEnt's most promising slot machines. If you are a high roller, don't expect many grand wins from this slot. Some players have gotten big rewards, but due to the low deposit options and high RTP of 98%, most wins are a bit small. With this slot, you aren't taking too much of a risk, but have a fair upwards potential. That's the beauty of high RTP slots.
Licenses of Blood Suckers
Blood Suckers is a creation of one of the most renowned software developing companies – Net Entertainment. The software developer is licensed and regulated by the United Kingdom Gambling Commission or UKGC, which makes this game a fair and safe slot choice for gamblers.
FAQ
What's the biggest potential win with this slot?
With wins that go over 1000x stake per free spin, especially with the sequel, this game offers many opportunities for a win. If you unlock the free spins feature, you can get a 3x multiplier. It is not uncommon to walk away with 50x or higher your bet, which would be somewhat of an average.
Can I use my phone to play Blood Suckers?
Yes. Blood Suckers can be played from desktop, mobile and tablet. It is offered at many casinos considering that it is one of the oldest slots around, and it can be accessed from any mobile device.
What kind of bonuses and special features are there?
Blood Suckers' features include free spins, Wild substitutions, and the Vampire Slaying bonus game. You can land 10 free spins by getting three or more Scatter symbols on a single bet line. If a coffin is opened and you see bats fly out, the bonus game will end and you'll get the amount you won so far.
What are the minimum and maximum bets offered on this slot machine?
This is a high RTP, low deposit slot machine. You can bet with as little as $0.25 per spin or as much as $50 per spin. It is ideal both for low deposit players and high rollers who aim for bigger wins.
Where can I play this game?
Since this is one of the all-time-favourites in the slot machine world, you can find this game in most big casinos these days. In modern casinos, you can even find its sequel, though some people still prefer sticking with its old version.